Welcome to the SBSG website
Sheffield Bird Study Group was formed in December 1972 as a forum for birdwatchers in and around the city with an active interest in ornithology. The group's recording area, covering twelve 10km squares with the city roughly in the middle, is hugely diverse, stretching north to the outskirts of Barnsley, south to Chesterfield, east to the lowlands beyond Rotherham and Bolsover, and west to the highest tops of the Peak District National Park.
We aim to promote an interest in birds in the community, provide something of interest to all levels of birder, co-ordinate fieldwork and recording in the area, and work with and complement the work of like-minded local and national organisations for the benefit of birds. SBSG is registered charity No 510857. click here for more.
Diary Dates
Thursday February 23rd - 7.30pm-9.00pm
HS2 In Rotherham and Sheffield – What it would mean for local wildlife
Dr Nicky Rivers from the Sheffield and Rotherham Wildlife Trust will talk about the potential impacts of the new proposed HS2 route on the local natural environment.
"In particular, I am hoping that you, as people with local wildlife knowledge, can attend and help us to fill in some gaps in knowledge about some of the Local Wildlife Sites in or next to the new proposed route".
These include: NorWood, Nickerwood, King's Pond Plantation, Firsby Reservoir & Hooton Cliff.
Free for SRWT members, suggested donation £3 for non- members, or you can join on the night. Any enquiries contact Nicky via 0114 2634335 or This email address is being protected from spambots. You need JavaScript enabled to view it.
Aston Cricket Club, Green Lane, Aston, S26 2BD (bar open before and afterwards)
---
Saturday 25th February 2017
A Festival of Amateur Natural History
The 8th South Yorkshire Natural History Day
Please see full details on the Sorby web site here
---
Indoor Meetings
Wednesday 8th Mar at 7.15pm
AGM – Including Review of the Year 2016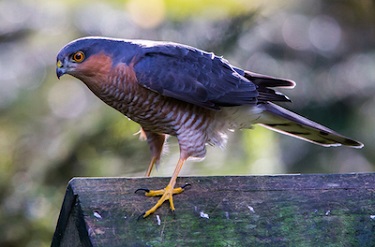 Goshawk / Sparrowhawk ID slot
Neil Porter - Rwanda
Committee Nominations
2016 Accounts
Secretary's Report
Recorders Report
Sheffield University Hicks Building, Lecture Theatre 5
---
Wednesday 12th Apr at 7.15pm
Esther Kettel - City Living? - Comparative Ecology of Urban and Rural Peregrines

Esther graduated with a BSc (Hons) in Wildlife Conservation from Nottingham Trent University in 2013 and then went on to study a Masters by Research in Biodiversity Conservation at the University of Nottingham. Whilst studying for her Masters she also worked for the Nottinghamshire Wildlife Trust, carrying out water vole, water shrew and otter surveys. In 2014 she was awarded a PhD scholarship at Nottingham Trent University researching the ecology of peregrine falcons in urban habitats. Currently in her final year of the PhD, she aims to submit towards the end of summer 2017 and tonight she will share an insight into the research undertaken.
Urbanisation is rapidly increasing across the world, and the effects this has on wildlife can be detrimental. Some species, however, are able to adapt to these modified landscapes and even thrive in such habitats. The peregrine falcon is historically found nesting on tall, inaccessible cliff faces, yet increasingly it is found nesting in towns and cities...read more
Sheffield University Hicks Building, Lecture Theatre 5
---
YNU Conference 2017
The Yorkshire Naturalists' Union conference will be held on Saturday the 8th April 2017 in Hendrix Hall, Heslington West Campus, University of York. The conference theme is 'Yorkshire's natural history societies – for naturalists, for nature, for the future'.
Full details here
---
Visit us on Facebook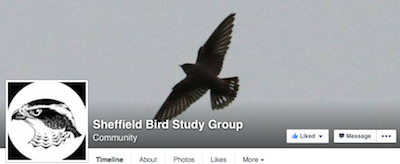 News
BBC Winterwatch in Sheffield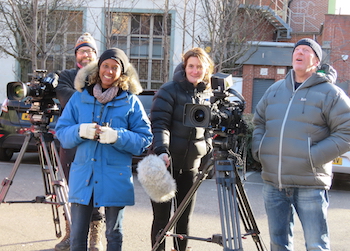 Winterwatch was aired on Monday 23rd January and can be found on the BBC iPlayer here. The crew pictured (Ian, Gillian, Vicky & Scotty) were in Sheffield on the 10th & 11th of January filming Waxwings and Thrushes at various city centre sites and were supported by two SBSG members, Pete Brown and Pete Garrity.
---
Parking for Indoor Meetings
Please note the following in terms of the change in parking outside of the Hicks Building -
We have had contact from the University - they have apologised about not informing us of the change in parking policy for Zone B. This ought to allow appeals to be made to the third party provider and hopefully get any charges which were received at the January meeting rescinded. Please contact the SBSG secretary for details This email address is being protected from spambots. You need JavaScript enabled to view it.. Please note that this doesn't include tickets for on street parking, which are courtesy of Sheffield City Council!
You will now require a University Staff Car Parking Permit to park in any of their car parks. Therefore there is no visitor parking in University car parks. The University do have the Q Park on Durham Road now open and there are special evening and weekend rates in place that can be found online here.
---
Waxwings
As the 2016/17 winter is shaping up nicely as the best 'Waxwing winter' for some years, here is a link to an article by Dave Wood documenting the 2010/2011 influx in our area, with some useful information on ageing and sexing.
It can be found here.
---
Migration Article - Sheffield Telegraph
An article including the recent Waxwing influx and the Middleton Moor Starling roost can be found here
---
Membership News
Membership secretary, Martin Hodgson, will be available at the February meeting to receive subscriptions for 2017. The membership fees remain as before - £14 for an individual and £16 for a couple/family. If you can't attend the meeting, you can still renew early by printing off and completing the form here, or by completing and submitting the online form here.
---
Publications
Birds in the Sheffield Area, 2014 - Annual Report now available
Editors: Richard Hill and David Wood
Birds in the Sheffield Area, 2014 was published in February 2016, with help of the major sponsors The National Trust, Foothills and Harrison Cameras.
The cover of a Nightjar was created by Paul Leonard, and the text is interleaved with illustrations by Ben Green, Richard Dale, Paul Leonard and Ray Scally. The photographs are courtesy of A. Deighton, P. Garrity, R.D. Hill, A. Jones, M.N. Reeder, D. Simmonite, M. Smethurst and D. Wood.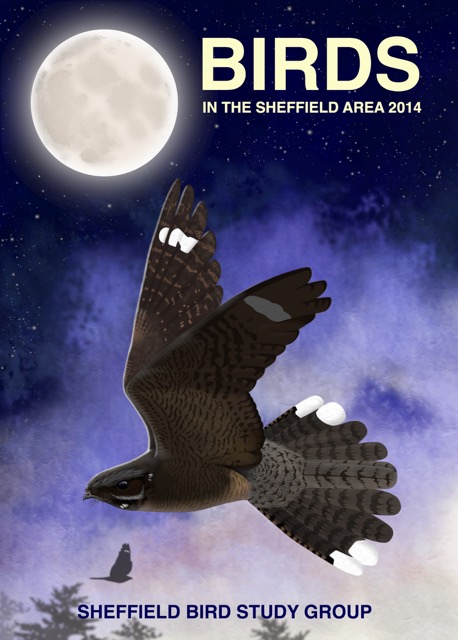 Main Contents
A review of the birding year, 2014
Systematic List of records for the year 2014
Arrival and departure dates of migrant species in 2014

Glossy Ibis - New to the Sheffield Area

'Siberian' Lesser Whitethroat at Nether Edge
Breeding Success for Hen Harriers
The cost is £6 if collected, or £8 to include postage and packing. It's free for qualifying members.
Anyone interested in obtaining a copy of this, or any other of our annual reports, please email

This email address is being protected from spambots. You need JavaScript enabled to view it.

for further details.