Welcome to the SBSG website
Sheffield Bird Study Group was formed in December 1972 as a forum for birdwatchers in and around the city with an active interest in ornithology. The group's recording area, covering twelve 10km squares with the city roughly in the middle, is hugely diverse, stretching north to the outskirts of Barnsley, south to Chesterfield, east to the lowlands beyond Rotherham and Bolsover, and west to the highest tops of the Peak District National Park.
We aim to promote an interest in birds in the community, provide something of interest to all levels of birder, co-ordinate fieldwork and recording in the area, and work with and complement the work of like-minded local and national organisations for the benefit of birds. SBSG is registered charity No 510857. click here for more.
Diary Dates
Friday 2nd June 19:00-20:00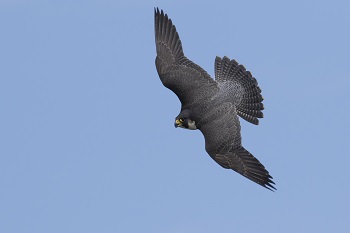 Free public talk on the Sheffield Peregrine Project at St George's Church, Brook Hill (S3 7HE).
This one-hour session will bring together three speakers who will address different aspects of the project: Helen Hipperson (Department of Animal and Plant Sciences at the University of Sheffield) will explore the science behind the Peregrine project; Dean Rea (Sorby Breck Ringing Group) will discuss the ringing of the birds; and David Wood (SBSG Chair) will review this season in the context of recent years.
Before the talk there will be a Peregrine watch from 18:00, with telescope and binoculars available to use and a chance to ask one-to-one questions. This date could coincide with the young birds leaving the nest, so we should see plenty of activity.
---
Saturday 6th May at 08:30
Local field trip to Padley Gorge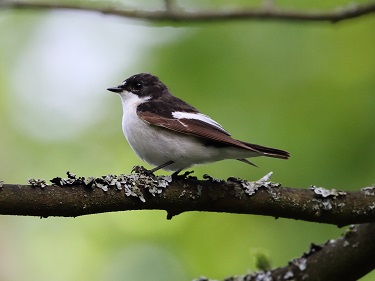 A walk down Padley gorge with Ron Blagden to see (and hear) summer migrants of the wooded cloughs and moorland fringe. Specialities of the site include Pied Flycatcher, Redstart and Tree Pipit, with Wood Warbler and Cuckoo also possible. Meet on the B6521 below Longshaw Lodge at the gate favoured by ice cream vans (approx SK258800). Sturdy footwear recommended. £2 contribution from non-members requested.
---
Indoor Meetings
Wednesday 10th May at 7.15pm
Geoff Carr - Georgia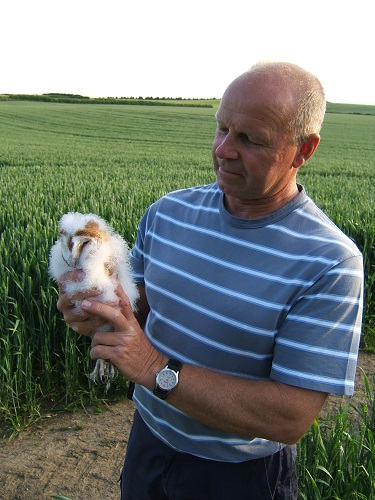 Geoff has had a lifelong interest in wildlife and particularly birds and was previously head of Barnsley Parks, Countryside and Rights of Way Group. As a past Naturetrek leader he visited many countries around the world and led around 50 tours during that time. He now runs his own Ecology survey business – Geoff Carr Ecology. He has been a bird ringer for 35 years, a photographer and article contributor to British Birds magazine, YNU Bird Report, Flamborough Bird Report and of course Barnsley Bird Study Group.
Visit to Georgia
"I visited Georgia in April 2014 after talking to the guys on the Georgia stand at the Rutland Birdfair the previous year. I wanted something different so choose this little-visited, historically turbulent country. There were three of us on the trip and lead by a Georgian wildlife film-maker. We had a great time, starting up in the snow-clad Caucasus Mountains, south through wooded valleys and onto the steppe landscape to the south of the country. A real mix of landscapes for such a small country. Migration in full swing through the country sandwiched between the Black and Caspian Seas".
Geoff Carr
Sheffield University Hicks Building, Lecture Theatre 5
---
Visit us on Facebook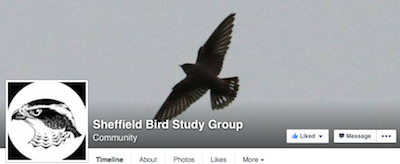 News
Submitting your records
If you have submitted records recently you may have noticed that the calendar facility, when adding the date to your record, is no longer available. This has occurred following a software update, though should not affect users too adverserly providing that they add the date in the specified format as shown below.As before, when entering multiple records the date needs inputting only once.
Andy Roadhouse
News reached us last weekend of the sad passing of our old friend Andy Roadhouse. Andy, or Mr Spurn, as he became known had been courageously battling cancer for over 12 years. Despite his illness, he continued to edit the annual Spurn bird report and wrote the incredible 'Birds of Spurn'.
Raised in Rotherham, Andy's formative birding years were at Thrybergh (before it became a country park) and he will be remembered there for some of the excellent finds, such as Britain's 6th Ashy-headed Wagtail.
With so many memories it would be doing Andy, and those who knew him, an injustice to sum up his life in just a few short paragraphs and a full celebration will appear in a future bulletin.
Andy's funeral will be held at Barnsley Crematorium, Doncaster Road, Ardsley at 11:30 on 12th May, followed by a get-together in the Old Moor Tavern, Broomhill.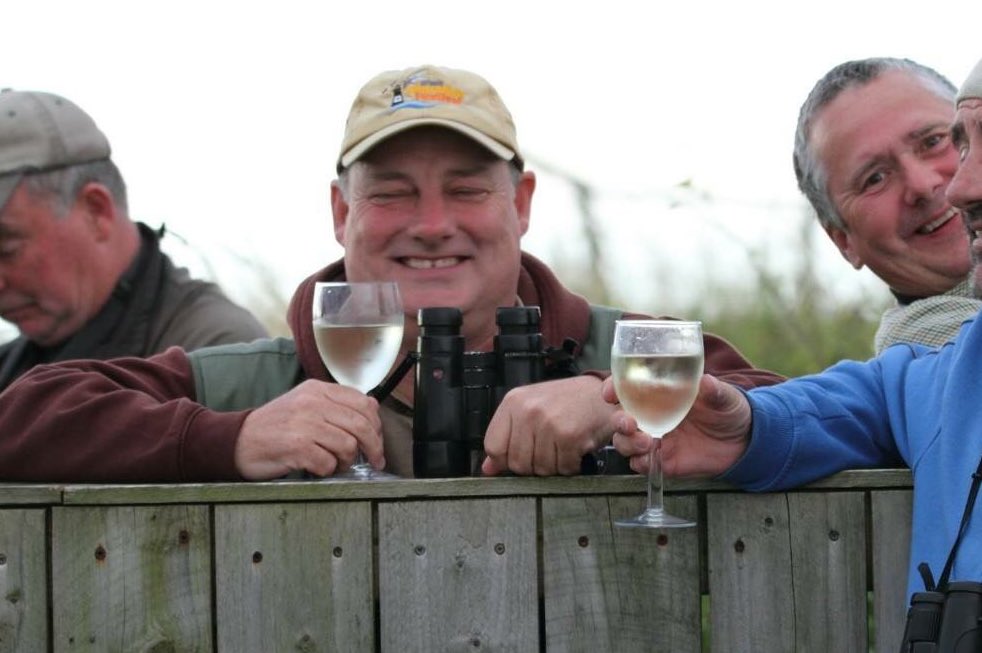 ---
Publications
Birds in the Sheffield Area, 2015 - Annual Report now available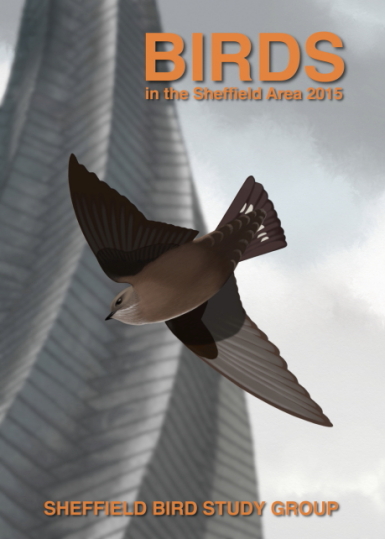 Birds of the Sheffield Area 2015
Editors: Richard Hill and David Wood
Birds in the Sheffield Area, 2015 was published in May 2017, with help of the major sponsors The National Trust, Foothills and Harrison Cameras. It has a total of 202 pages.
This edition is dedicated to the memory of Martin Garner 1964-2016
The cover of a Crag Martin was created by Paul Leonard, and the text is interleaved with full colour illustrations by Ben Green, Richard Dale, Paul Leonard and Ray Scally.
The colour photographs are courtesy of M.A. Broadland, A. Deighton, P. Garrity, C. Hallam, R. D. Hill, P. Jackson, D. Langston, M. N. Reeder, M. Sherwin, M. Smethurst, P. Stoppard, C. Tyler, R. Twigg, D. Wood and P & A Wilson.
Main Contents
A review of the birding year, 2015
Systematic List of records for the year 2015
Arrival and departure dates of migrant species in 2015
Crag Martin - New to the Sheffield Area
Black Stork - New to the Sheffield Area
Urban Breeding Lesser Black-backed Gulls in Chesterfield
Cetti's Warbler at Norbrigg's Flash - A New Breeding Species
A Survey of Breeding Swifts in Sheffield SK38 - 2014-15
The cost is £6 if collected, or £8 to include postage and packing. It's free to qualifying members.
Anyone interested in obtaining a copy of this, or any other of our annual reports, please email Martin Hodgson for further details.
---
Help Sheffield University and SBSG support the Sheffield Peregrines
With your help we can provide more opportunities for people to learn more about these amazing birds as well as carry out important research. You can support the Sheffield Peregrines Project by donating through the Virgin Money Giving page.
Click on this link to learn more about the plans for the project and to donate:



---
Help Protect Ring Ouzels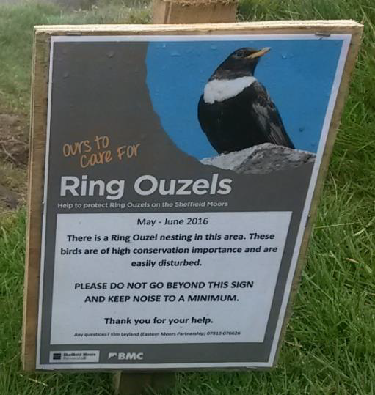 Although a very early report at Redmires was submitted on March 7th, the first returning Ring Ouzels were back on territory at the gritstone edges of Burbage and Stanage on 21st March, so it is an appropriate time to ask for maximum protection for this declining species. Many of us will want to see the birds, and some will want to photograph them, but the best interests of the birds must come first.
In 2016, joint advice from SBSG and DOS was we believe mainly followed, but the previous year birds around Stanage Edge, Burbage Edge and Cutthroat Bridge were unfairly put under pressure by overly zealous photographers and those straying far too close to birds and their nest sites. It was, of course, only a minority of those who enjoyed the birds but having obtained maximum cooperation from the climbing groups who use these areas, it does no good whatsoever for the reputation of the birding community if we are seen as the cause of inappropriate disturbance. The BMC paper here illustrates how we can be proud of the breeding success of our Peak District birds despite the pressure from recreational groups.
Please take care and do report any cases that cause offence
---
Parking for Indoor Meetings
Please note the following in terms of the change in parking outside of the Hicks Building -
We have had contact from the University - they have apologised about not informing us of the change in parking policy for Zone B. This ought to allow appeals to be made to the third party provider and hopefully get any charges which were received at the January meeting rescinded. Please contact the SBSG secretary for details This email address is being protected from spambots. You need JavaScript enabled to view it.. Please note that this doesn't include tickets for on street parking, which are courtesy of Sheffield City Council!
You will now require a University Staff Car Parking Permit to park in any of their car parks. Therefore there is no visitor parking in University car parks. The University do have the Q Park on Durham Road now open and there are special evening and weekend rates in place that can be found online here.
---
Publications
Birds in the Sheffield Area, 2014 - Annual Report now available
Editors: Richard Hill and David Wood
Birds in the Sheffield Area, 2014 was published in February 2016, with help of the major sponsors The National Trust, Foothills and Harrison Cameras.
The cover of a Nightjar was created by Paul Leonard, and the text is interleaved with illustrations by Ben Green, Richard Dale, Paul Leonard and Ray Scally. The photographs are courtesy of A. Deighton, P. Garrity, R.D. Hill, A. Jones, M.N. Reeder, D. Simmonite, M. Smethurst and D. Wood.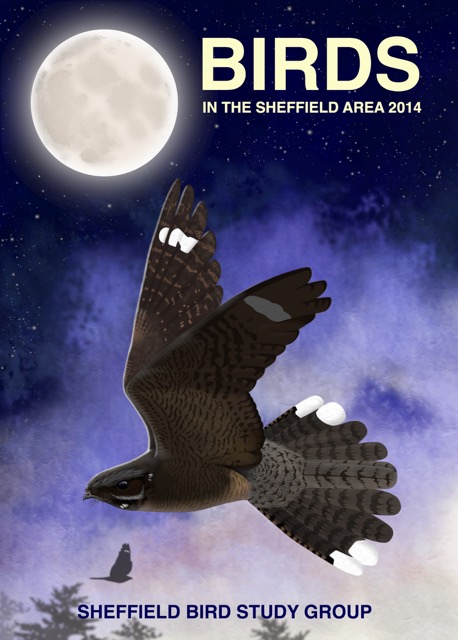 Main Contents
A review of the birding year, 2014
Systematic List of records for the year 2014
Arrival and departure dates of migrant species in 2014
Glossy Ibis - New to the Sheffield area
'Siberian' Lesser Whitethroat at Nether Edge
Breeding Success for Hen Harriers
The cost is £6 if collected, or £8 to include postage and packing. It's free for qualifying members.
Anyone interested in obtaining a copy of this, or any other of our annual reports, please email

This email address is being protected from spambots. You need JavaScript enabled to view it.

for further details.